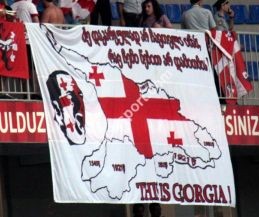 TBILISI, DFWatch–A number of human rights organizations in Georgia have united under the name 'No to Phobia' and want the government to show a tougher attitude to what happened during a football match between Georgian and Azerbaijani teams a few days ago.
July 31, a match was played in Baku between Chikhura FC from the western Georgian town Sachkhere and Baku Neftchi.
During the match, fans of the Georgian team displayed a map of Georgia on which Azerbaijan's Zakatala, Kakhi and Belokani were marked as territory of Georgia. https://dfwatch.net/georgian-and-azerbaijani-football-supporters-clash-in-baku-84587
This provoked a scuffle.
A week earlier, on July 24, there was a match in Tbilisi between Chikhura and Turkey's Bursa, during which a football player who scored the goal for Georgia insulted the Turkish fans from the stadium, which also provoked a scuffle.
Later the same day, there was a clash between Turkish and Georgian journalists in the media room. During the match, Georgian football fans brought anti-Turkish flag and were photographed doing a Nazi salute.
Non-governmental organizations think the Interior Ministry and the Sports Ministry have not reacted strongly enough to these incidents.
The Georgian Football Federation (GFF) on its website wrote that victory of July 24 was 'heroic', while the Sports Ministry has not responded at all.
No to Phobia writes that ministries being passive about the first incidents has resulted in an even more dangerous provocation for the country. The groups think such an attitude can encourage the same type of actions from football players and their fans in the future.
The organizations believe that law enforcement bodies should have been more active preventing provocation in the stadium and stop people from doing a Nazi salute. They call on the GFF to be more attentive and serious towards discriminatory actions during sport events and establish sanctions against those who do such things.
They also call on the Interior Ministry to react adequately to ethnic and other types of discrimination and take measures in the future to prevent violations.
Among the signatories are Media Development Foundation, Georgia's Democratic, Initiative, Identoba, Tolerance and Diversity Institute, and 42th passage of Constitution.