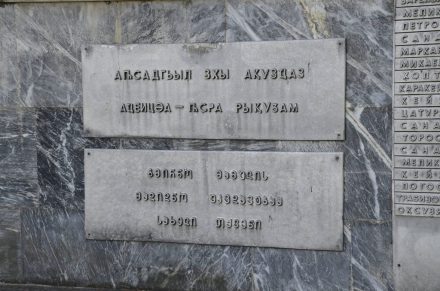 TBILISI, DFWatch–A World War II memorial in Abkhazia has been found to bear an inscription in the Georgian language; a rarity after a recent wave of cultural cleansing.
DFWatch's reporter unexpectedly stumbled upon the memorial stone in Merkheuli, a village in the south of Abkhazia. It is dedicated to Lavrentiy Beria, the head the of Soviet secret police NKVD.
It's an astonishing discovery, because Georgian language memorials are so rare in today's Abkhazia. The breakaway authorities vigorously erased all Georgian language traces after the 2008 war and almost every inscription in public spaces has been destroyed.
The inscription, in both Abkhazian and Georgian language, reads: "The heroes who glorified your homeland, your the name is immortality."
The memorial is located in the yard of the Armenian school in Merkheuli, Beria's birthplace, which lies 22 kilometers east of Sokhumi and along the road connecting Sokhumi with Kodori Gorge, dubbed "the Abkhazian Military Road".
Lavrentiy Beria (1899-1953) was chief of the Soviet security and secret police apparatus (NKVD) prior to and during World War II, and one of the foremost perpetrators of the Great Purge in Georgia.
According to the 2011 census conducted by the Sokhumi regime, the Merkheuli population was 839, 76.3% of ethnic Armenians, 9,4% Georgians, 8,6% Abkhaz and 4,4% Russians. By 1926, the population exceeded 3,800, nearly half of which was Georgians. Before the 1992-93 Abkhazian War, the population was about 4,000.
The 1989 census didn't offer data about the ethnic composition of the village, but the majority of the population was Georgian. The vast majority of them fled the village in September 1993, after the fall of Sokhumi.