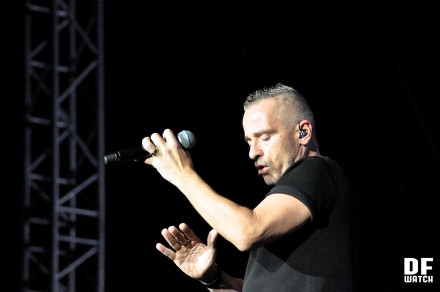 TBILISI, DFWatch–Eros Ramazzotti dedicated his concert in Tbilisi on Sunday to the American singer and songwriter Prince, who died April 21 at the age of 57.
This was the first in a series of events organized by the Georgian government called Check in Georgia, which aims to attract more tourists to the country and promote Georgia internationally. About 5,000 tickets were sold for Sunday's concert at the Sports Palace in Tbilisi.
Up on the stage, Ramazzotti greeted the audience in Georgian and thanked them for attending the concert. This was perceived as a sort of apology for Saturday, when he said 'spasiba' (Russian for 'thank you') to the culture minister during a press conference, which caused dissatisfaction among some of the journalists. Some of the guests at Sports Palace told DFWatch they were so disappointed by his Russian 'spasiba' ('thanks') that they weren't even planning to attend the concert.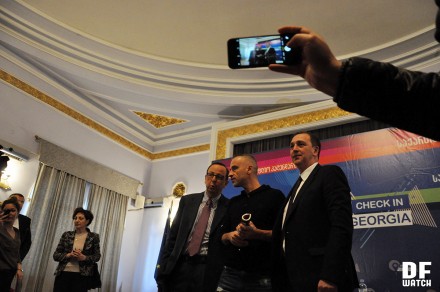 During the press conference, Ramazzotti informed that his concert is part of a Perfetto World Tour, which is the subject of a documentary movie about him. He said that the concert in Tbilisi will be shown in the documentary.
The acclaimed Italian singer-songwriter dubbed Tbilisi 'a clean city', which was his first impression here.
Guests came from Germany, Azerbaijan, the U.S., Russia, Italy and the U.K. to attend the concert. Some of the guests protested that they had to come at 6 pm and wait until the concert started at 8 pm (it actually began at 8:20 pm). Many guests had thought the concert would start at 6 pm.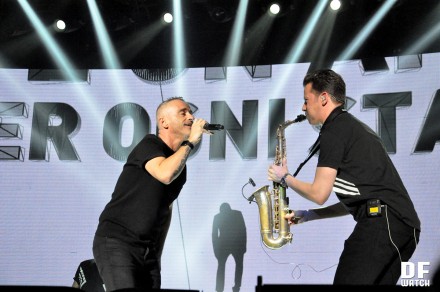 Police control was strict. The guards didn't allow guests to bring water bottles inside, where they were sold at twice of the normal price.
"I enjoyed the concert, especially decoration and effects. I was sitting in the upper part, with a 20 lari ticket, and I felt really awkward when Ramazzotti asked for people in front of the stage to sing along with him, but they couldn't because they didn't know the lyrics and the song. Otherwise I liked the concert," one of the girls attending the concert told DFWatch.
Ramazzotti came down to his fans and took pictures with them.
Check in Georgia is a series of concerts and events will be held the following months many places in Georgia. Among the artists featured are Robbie Williams and Maroon 5.