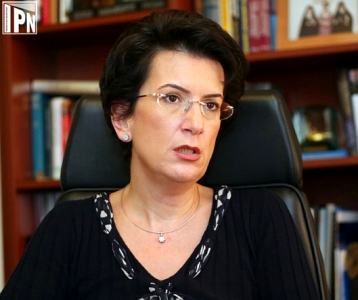 TBILISI, DFWatch–Russian President Vladimir Putin is not an enemy of Georgia, but a very significant politician, according to former Speaker of Parliament Nino Burjanadze.
The opposition figure whose party Democratic Movement is without representatives in parliament was roasted on Rustavi 2 TV on Wednesday and said politicians cannot be anyone's enemy or friends.
She promised voters to amend the Constitution so that it will be prohibited for Georgia to join any military bloc, which means that Georgia would abandon its aspirations to become a NATO member. The speaker of parliament quickly made a counter-proposal about having NATO-aspirations enshrined in the Constitution.
Burjanadze believes that when politicians act, they take into account the state's interest, and Georgia's goal is that Vladimir Putin is not forced to treat Georgia like an enemy.
"Our goal is to make both enemies and friends our friends."
She doesn't call Russia an 'occupier' believing that it is not a correct term.
"I won't call it occupier, even though yes, Sir, it is. If it gives anything during negotiations with Russia, OK, let's say it, but this is not a correct term, when you want to negotiate with the state," she said.
Her proposal also contains a ban on foreign troops on Georgian soil, the implication being that Russia must pull out its military from the breakaway territories Abkhazia and South Ossetia.
"We are the only political force in Georgia speaking about getting the Russian army out, others speak of bringing in the armies of other states."
Burjanadze promised voters better relations with Russia, complete opening of the Russian market and restoring visa-free travel. Today, only Russians can go to Georgia without a visa, while Georgians require a visa to go to Russia.
She again accused former President Mikheil Saakashvili of starting the war with Russia in 2008, claiming that the President Putin personally warned Saakashvili before the war.
Burjanadze recalled a meeting with the ex-president a month before the war and later a meeting with Russia's the Deputy of Foreign Minister Gregory Karasin in Tbilisi. She said that former foreign Minister Grigol Vashadze and then Saakashvili asked her to meet with Karasin, whom she hosted at her home.
"He [Karasin] was visiting to say that the situation was tense in [South] Ossetia and war was expected. He said that it would be devastating for Georgia and it would wreck relations between Russia and Georgia."
She said she warned the government that if Georgia started a war it would be devastating.
"Putin personally warned Saakashvili. I was present during this phone conversation. Saakashvili has to be held responsible for this and he will be held responsible. I will unite Georgia," she added.
Nino Burjanadze was Speaker of Parliament from November 2001, when Eduard Shevardnadze was president, until June 2008, when Mikheil Saakashvili was president. She was a member of the National Movement until 2008, when she started her own opposition party the Democratic Movement.