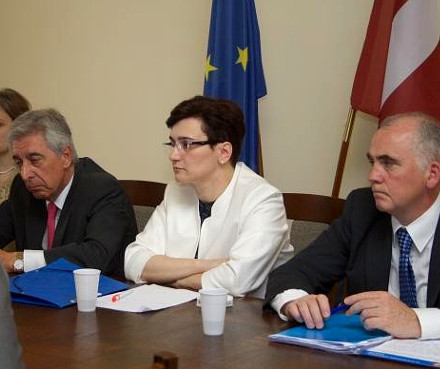 TBILISI, DFWatch–Prosecutors in Georgia have dropped a case against the brother of a judge at the European Court of Human Rights (ECHR) who said the investigation was connected to her work. None Tsotsoria (center) is a judge currently serving at the European Court of Human Rights.
The Prosecutor's Office of Georgia (POG) called off the probe without indicting Otar Tsotsonia, concluding that a pistol and bullets found in his apartment belonged to his late father-in-law.
"The forensic examination revealed that the confiscated revolver was made in a makeshift manner, is not suitable for firing and [therefore] cannot be categorized as a firearm. The cartridges belong to the category of ammunition and are suitable for use," POG said in a statement released on Saturday.
Investigators concluded that the pistol and cartridges belonged to Otar Tsotsoria's father-in-law, who died on May 11, therefore the prosecution didn't proceed with the indictment, the statement goes on.
Otar Tsotsoria, who owns the apartment where the pistol and ammunition were found, is brother of Nona Tsotsoria, a judge representing Georgia at the European Court of Human Rights.
This raised suspicion that the police raid might somehow be linked with the position of Nona Tsotsoria, who is seen as a supporter of the former government.
"I have reason to believe that [the police raid] is related to my work at the European Court of Human Rights," Nona Tsotsoria wrote on Facebook on Friday. However, on Saturday her account was deleted.