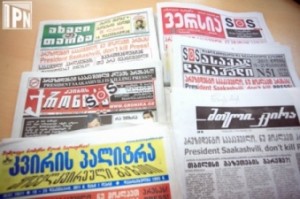 TBILISI, DFWatch – Today many Georgian newspapers are running the same slogan on their frontpage: "President Saakashvili, don't kill the press!"
The reason is a new plan by Tbilisi City Hall to remove newspaper sellers from the whole capital and put in place a new system of kiosks. There is doubt whether the new kiosks will be distributing newspapers freely — or at all.
Many of the newsstands and old kiosks have been forced away already, and newspapers are experiencing a sharp drop in circulation numbers.
The subscription system is not a viable means of distribution in Georgia, and newspapers are therefore reliant on kiosks and newsstands to reach their readers.
Some of the papers running this slogan in today's edition are Asaval Dasaval, Kronika, Kviris Palitra, Resonance, Versia, and Axali Taoba.