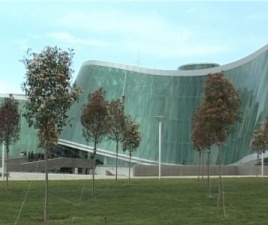 Tbilisi, DFWatch – The head of the Poti Police was dismissed for alleged of sexual abuse case on Wednesday. The alleged victim is a female police detective whose identity hasn't been disclosed.
The fact that the fired police chief is a relative to the Chair of the Parliament's Human Rights Committee, further fuelled public attention to the case.
Zurab Alania, who had been recommended on this post by Eka Beselia, the MP chairing the Human Rights Committee in the Parliament, has held post of head of the Police Department in Poti since November of 2012, shortly after the ruling Georgian Dream coalition came to power.
Alania is Eka Beselia's kinsman, which was confirmed by her . However, Beselia claims Alania is only her 'distant relative'.
The Interior Ministry informed journalists that the General Inspection initiated a probe into the alleged power abuse case, sexual violence in particular.
Alania may be restored on post if no evidence will be discovered. He didn't answer the questions of journalists.
Zurab Alania was appointer as a head of Poti police in 2013 by recommendation of Eka Beselia. She confirmed to the journalists that Alania was her kinsman. She did not comment on the recent allegations.