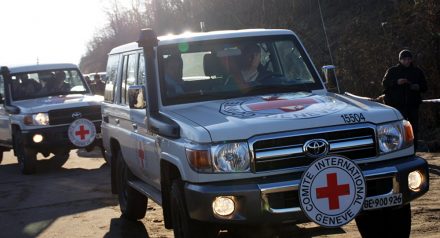 AKHALGORI, DFWatch–Georgians took to social media to express their outrage on Friday after it emerged that a South Ossetian officer was receiving treatment at a Tbilisi hospital.
It is being speculated that he might be implicated in the murder of Archil Tatunashvili, a Georgian ex-soldier who died under suspicious circumstances in a Tskhinvali prison.
However, a source in Tskhinvali told DFWatch that it is highly unlikely that he was involved in the murder.
Aslan Jioev is an officer at South Ossetia's special service tasked with protecting high ranking state officials and buildings. He was severely injured in a he car accident in Tskhinvali and rushed to a hospital in Tbilisi by the International Red Cross, the source said.
Jioev is a bodyguard for the de facto head of Akhalgori district, Philip Khachirov, who was said to have been involved in the detention of Archil Tatunashvili. The latter was beaten to death at a Tskhinvali prison under suspicious circumstances. After the murder, it was reported that the breakaway authorities assigned a bodyguard to Khachirov for protection.
Jioev's possible implication in Tatunashvili murder might be related to the fact that he is a close relative of Alexander Jioev, the head of police in Akhalgori district in the breakaway republic. It was said that Tatunashvili was detained after a bitter row with Alexander Jioev.
Although there has been no direct evidence linking Aslan Jioev to the Tatunashvili case, some Georgians have voiced their protest against treating 'the criminal' in Tbilisi and demanded his immediate prosecution.
Later, on Friday the Gudushauri National Medical Center confirmed that a patient from South Ossetia was accepted there on Thursday and treated for severe injuries sustained to his skull. However, the clinic withheld his identity.
"We need to act with more responsibility in such issues," Ketevan Tsikhelashvili, State Minister for Reconciliation and Civic Equality, said. "If there is some suspicion about the person […] (we) shall not use medical instruments for punitive purposes."
The Ministry of Internal Affairs refused to comment on the issue.
Georgia offers free medical treatment to people living in Abkhazia and South Ossetia. Thousands of people have participated in the program, which covers also treatment of severe medical conditions that require multiple surgery.