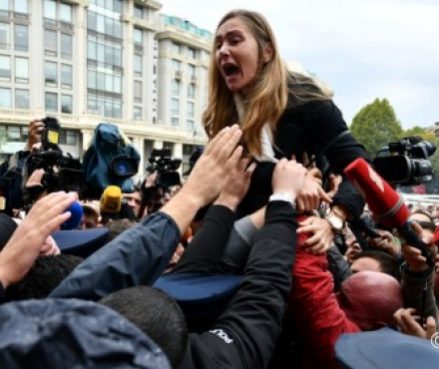 TBILISI, DFWatch–The city assembly in Tbilisi, the Sakrebulo, on Tuesday approved the handover of two land lots to former Prime Minister Bidzina Ivanishvili for the symbolic price of one Georgian lari.
While the vote went ahead, a ruckus of shouting and pushing took place outside, as supporters of the National Movement and other activists were outraged at the chair's refusal to allow opposition members and civil activists to enter the main session hall on Freedom Square.
The opposition argues that Georgian law allows council members to attend Sakrebulo sessions and enter every public building.
When Members of the United National Movement and European Georgia showed up at the entrance to the stately building, they were met by an iron cordon, and behind it, dozens of police officers standing guard.
According to Giorgi Alibegashvili, the Sakrebulo chair, the decision to ask for police reinforcement was made due to the recent developments, when, he claimed, the opposition tried to disrupt a session.
Opposition politicians and activists tried in vain to break through the police cordon and into the building. Police eventually arrested eight of them.
The opposition is going to challenge the City Council's decision in the court. The National Movement plans to hold a big protest rally in the center of Tbilisi on Saturday.
Later in the evening, both resolutions were passed, which will allow Ivanishvili's company to buy two land plots 1,900 and 4,700 square meters in size for a mere symbolic price of one Georgian lari and use the properties to build a large car park and a recreational complex, respectively.
The car park will be constructed on a property near Freedom Square, while the multifunctional recreational center will be located on mount Tabori, overseeing downtown Tbilisi and adjacent to the botanical garden.
The opposition and part of civil activists claim the proposals were the result of backroom deals with Ivanishvili, whom they accuse of influencing decisions made by the ruling Georgian Dream party and the government.