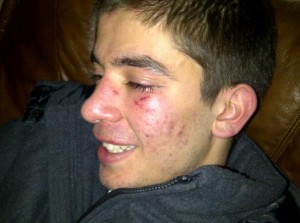 TBILISI, DFWatch – An oppposition parliamentarian says the physical attack against his son was politically motivated.
Giorgi Tsagareishvili, representive of the Free Democrats and head of the parliamentary faction Unity for Justice, told DFWatch that his 19 year old son, Zurab, was attacked on the street by strangers and beaten.
The attack took place late at night near the entrance to their home on Kavsadze Street in the Vake district of Tbilisi.
According to him, at around 0:30 am, four or five strangers attacked his son as he was returning home. The neighbors heard the noise and came out to see what was going on, and then the attackers disappeared.
"We called for the police and an ambulance. My son was transferred to the Republican Hospital, where he was diagnosed with brain concussion. He has injuries in the face. At around 6 am we returned home," Tsagareishvili said.
He says the attack is connected to his political activity.
Tsagareishvili has long been a forceful oppositional voice in parliament and raised questions about a number of controversial issues.
He sits in the leadership of the Free Democrats Party, which is headed by Irakli Alasania. Alasania's party is the main partner of the Georgian billionaire businessman Bidzina Ivanishvili, who himself is barred from being involved in politics due to having been stripped of his citizenship.
Lately, Tsagareishvili has appealed personally to Ivanishvili for intensive consultations, and there were speculations that his faction might join the businessman's movement called Georgian Dream, which was officially launched on December 11.