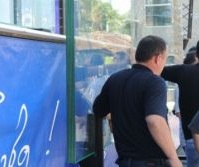 TBILISI, DFWatch – A member of the Georgian Dream coalition's campaign team Monday started a rally in front of Bank of Georgia in Lanchkhuti, a small town in the western Guria region.
Shota Pirtskhalaishvili is one of over twenty opposition campaigners who claim that their accounts have been seized and that all of them have a current balance of minus 999 999 lari.
Bank of Georgia claims that the accounts haven't been seized.
Pirtskhalaishvili symbolically gathered 99 tetri during one hour's rallying and deposited the coins on his bank account in the bank.
He says he will go on a hunger strike from tomorrow and 11 others are planning to join him, unless there is a tangible response.
Georgian Dream activists four days ago reported that their bank accounts had been seized, but Bank of Georgia denies this.
All 21 activists who are unable to access their bank accounts plan to go to court. They gathered in front of the branch office holding placards saying 'It is dangerous to be a client of Bank of Georgia', according to Interpressnews.
Also a Georgian Dream campaigner with account in another bank discovered that his account had been taken over. Tariel Tevzadze from Ozurgeti is a client of Pro Credit Bank. He suddenly found himself unable to access his account, and upon contacting the bank to find out why, was told that his account had been seized on the basis of a decision by Tbilisi City Court.
The Georgian Dream branch office in Ozurgeti says it is unknown why Tevzadze's account was seized, but warns its activists to check their accounts.
Sopo Balavadze, spokersperson for Bank of Georgia, told IPN that none of the opposition activists's accounts have been seized, and furthermore, it is wrong that their balance is minus 999 999 lari. She says the whole thing is the result of some technical error.
Earlier in 2012, Bank of Georgia became the first Georgian company to attain a listing on London Stock Exchange. The bank was originally founded by the late investor Badri Patarkatsishvili, but taken over when he signaled his interest in running as an opposition candidate against President Saakashvili in  2007.