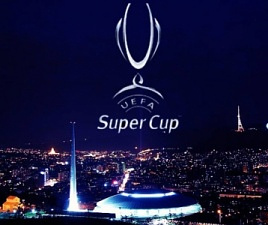 TBILISI, DFWatch–Online ticket sale for the August 11 UEFA Super Cup match between Barcelona and Sevilla began Tuesday morning, but was stopped in the evening due to technical problems.
The site biletebi.ge began selling tickets at 9am, but at 9pm, only about 2,063 tickets had been sold.
24,000 tickets were meant to be sold for Georgian fans and 6,000 for international users, who would be able to buy tickets on July 1.
The website should have begun offering tickets online on June 22, but the site went down, and stayed down. On June 24. the website was given 48 hours to solve the technical problems, otherwise the Georgian Football Federation (GFF) would switch to an unspecified 'plan B'.
Plan B was revealed to be selling tickets from booths, GFF head Zviad Sichinava revealed in an interview with Rustavi 2. The details of this will be known on Wednesday, he added.
Biletebi.ge posted a statement on Facebook which said that due to technical errors they made a decision to halt online sale. Those who have purchased tickets online, will not lose them, the website promised.
"This will be an unprecedented occasion, because in recent years, tickets on this level, an UEFA match, have never been sold at cashiers, they were sold online," Sichinava said.
While it was operational, biletebi.ge had an electronic crowd, where visitors would see their number in the queue and the number of people waiting in line before them. Only 30,000 tickets were available, while more than 140,000 people were waiting for their turn to buy a ticket.
Some users complained that even though they waited for their turn till the end, and reached the point where they were going to buy a ticket, the system kicked them out and they went back to the end of the line.
The GFF's director asked law enforcement to find out whether the difficulties with buying tickets was the result of deliberate actions by someone.
Later, biletebi.ge said that the online ticket sales would be suspended at 21:30, without further details.
Some people wrote online that they had been able to buy tickets, while others made jokes about the unending problems surrounding tickets for the 2015 UEFA Super Cup, which will be held at Dinamo Stadium in the center of Tbilisi.
For example, a website was created to mock the ticket system for the Barcelona-Sevilla match – http://ocheredi.ge/, which says 'now you stand in Georgian Ocheredi (crowd), which is why you are not given a number. Everything is dependent on your skills and affiliates."