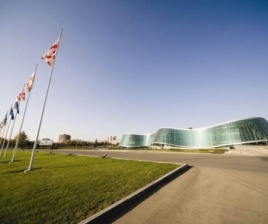 TBILISI, DFWatch–Police in Georgia have detained a second person in connection with the death of former Prime Minister Zurab Zhvania in 2005.
The new detainee is Mikheil Dzadzamia, who was head of the shift of Zhvania's security, and the charge is the same: negligence.
He should have been with Zurab Zhvania on the day of his death, as it was his shift turn.
According to the Prosecutor's Office, Dzadzamia is detained for negligence leading to death.
Georgian legislation, specifically the law of State Defense Special Service, requires to prepare and approve a plan for a Prime Minister's and his family's safety. According to the same plan, the guards cannot abandon the prime minister and leave him or her without protection.
"Despite this, February 3, 2005, at night, the main security guards' shift manager for Zurab Zhvania did not fulfill his obligations properly and abandoned the protected object without any security guard, when the ex-Prime Minister was found dead," the Prosecutor's Office's statement reads.
It further says that Dzadzamia didn't notify the branch of Planning Security Activities and Operative Management Department about the protected person's movement, as required by law.
Dzadzamia may be punished with up to four years in jail.
Police Thursday night detained Levan Chachua, one of the experts participating in the autopsy on Zhvania's body. https://dfwatch.net/pathologist-detained-in-case-about-death-of-georgian-pm-69562
The Prosecutor's Office has not yet questioned the head of Zhvania's guard, Koba Kharshiladze, who is in detention for another case. https://dfwatch.net/two-detained-for-money-laundering-in-tbilisi-94671
The detentions took place after a video with photos of the dead bodies of Zhvania and another man who died with him was posted on internet on Wednesday. https://dfwatch.net/autopsy-photos-of-deceased-georgian-pm-posted-on-youtube-25571