By Nino Bakradze and Dave Bloss
Organized Crime and Corruption Reporting Project

TBILISI, REPUBLIC OF GEORGIA — Bidzina Ivanishvili's wealth is not all hidden away in vaults. His 108,000 square foot glass house perches on a hill above the capital city of the country he returned to rule as prime minister after leaving for neighboring Russia as a young man and accumulating billions of dollars before moving back to Georgia in 2004.
Nor is the trail of where he keeps and invests his money totally hidden. As Prime Minister of Georgia in 2012-13, before he resigned and designated his own replacement, he was required to file public official's asset declarations. These 72 pages list dozens of properties, stock holdings, bank accounts and businesses.
But one company in his empire, Lynden Management Ltd., is not listed in these asset declarations.  Ivanishvili has kept it at arms length — so much so that he failed  over a period of almost four years to allow his representatives to send a copy of his Georgia passport and a proof-of address (as simple as a utility bill) to Mossack Fonseca, the Panama-based offshore-provider that registered Lynden Management in the British Virgin Islands in 2006 (3A and 3B).
Lynden Management is an interesting company because Ivanishvili and close associates recently lost $100 million in another company, Raptor Pharmaceutical, whose shares he owns through companies linked to Lynden Management. Ivanishvili did list Raptor in his 2012 and 2013 financial declarations.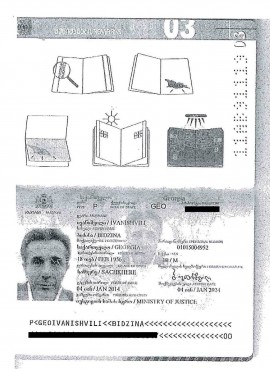 Mossack Fonseca needed Ivanishvili's passport copy and proof of address in order to comply first with a 2011 British Virgin Islands Financial Investigation Agency inquiry, and then with 2012 amendments to the Anti-Money Laundering and Terrorist Financing Code Of Practice.
This refusal can be traced through dozens of e-mails and attached documents from 2011-15,  according to internal data of Mossack Fonseca obtained by the German newspaper  Süddeutsche Zeitung and shared by the International Consortium of Investigative Journalists (ICIJ) with OCCRP and over 110 media partners from 82 countries. Süddeutsche Zeitung received the files through an anonymous source and shared them with ICIJ which organized the global collaboration.
Even though Ivanishvili was acknowledged to be the beneficial owner of Lynden Management back in 2011, Mossack Fonseca's compliance office spent the next four years trying to obtain Ivanishvili's passport copy, which they needed to comply with anti-money laundering regulations. In August of 2015, they finally received a copy of his passport. As of September 2015, they still hadn't received a proof of address.
Through Lynden Management and other structures, Ivanishvili and a close associate at one time controlled about 20 percent of the stock in Raptor Pharmaceuticals, a major US-based company that has had a roller coaster ride on the New York Stock Exchange. Raptor suffered in 2015 when a clinical trial for a drug to treat children with nonalcoholic steatohepatitis, an inflammation caused by a buildup of fat in the liver, failed to produce satisfactory results.
Ivanishvili has lost at least $US100 million in an account that includes this Raptor investment, and has filed lawsuits against Credit Suisse Bank in Switzerland, claiming one of the bank's private investment bankers illegally hid losses on risky investments from Ivanishvili. The private banker is accused of taking money from Ivanishvili's account and transferring it into the accounts of two yet-unnamed Russians with ties to the Gazprom energy conglomerate in order to cover losses in their accounts.
The loss is relatively small to Ivanishvili, who made his fortune mostly in banking and mining in Russia after the collapse of the Soviet Union. The Forbes Magazine 2016 ranking of billionaires calculates his net worth at $US4.8 billion, a drop of $US400 million in the past year.
The curious tale of Ivanishvili refusing to supply his documents begins on November 21, 2111, when Mossack Fonseca received a letter from the British Virgin Islands' Financial Investigation Agency, requesting within seven days information on Lynden Management's beneficial owners, directors, shareholders, beneficiaries, known bank accounts and assets, full details of connected companies, and Mossack Fonseca's due diligence records on Lynden Management.
Within three weeks, Mossack Fonseca's Singapore office, which was handling the Lynden Management account, notified its main office in Panama  that Ivanishvili was the beneficial owner of the company. Eventually the 2011 Financial Investigation Agency inquiry was closed with no action taken.
 But according to a long list of notes sent between Mossack Fonseca offices, the company was unable to obtain a copy of his Georgia passport until August 19, 2015. At one point the Singapore office asked about the consequences if no passport was obtained. The main office in Panama replied: "In case we receive a special investigation for this company and we fail (by) not having the information available, we may be subject of high administrative and statutory fines. Please note it is mandatory by law that the foregoing documents be kept on the registered agent's files."
Ivanishvili passport timeline
The  Swiss lawyer handling Ivanishvili's lawsuits against Credit Suisse provided no answers as to why Lynden Management was formed, what business it conducts, and why it took so long to provide a passport copy.
George Bachiashvili, chief executive office of the Georgian Co-Investment Fund created in 2013 by Ivanishvili, is listed in US Security and  Exchange System (SEC) documents as a shareholder in Raptor Pharmaceutical. Bachiashvili says that according to the 2012 "Conflict of Interest and Corruption in Public Service" law, since the term "beneficial owner" does not appear, Ivanishvili did not need to list Lynden Management in his 2012 and 2013 public asset declarations.
 According to Emur Chikhradze, Deputy of Georgia's Civil Service Bureau: "In their annual declaration, officials must disclose details of every company from which they get any kind of income during declaration period. It does not matter where the company is registered — in Georgia or in an offshore zone. If an official is connected with company in any manner (beneficial owner, founder, shareholder) he/she must show it in the annual declaration. If the official does not disclose complete information on his property in the declaration, it is a crime and the criminal code regulates such cases."