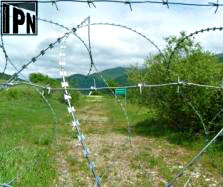 TBILISI, DFWatch–Georgian National Platform, a coalition of local non-governmental organizations (NGOs), appeals to EU to oppose Russia's recent border moving and installing of razor wire at the so-called administrative border.
The statement says that the Russian military is deliberately making rules for crossing the administrative boundary more difficult and is constructing insurmountable barriers in such a way that they are dividing families and private and communal properties, and impeding freedom of movement.
According to the letter, addressed to EU's High Representative for Foreign Affairs and Security Policy, Catherine Ashton, and EU Commissioner for Enlargement and European Neighborhood Policy, Štefan Füle, this process is still continuing and it has only intensified during the past few months.
There are left lands, sacred places and cemeteries, infrastructure for water beyond the wires. Cases of repression experienced by the local population for "violating the border" are of great concern and as reported by DF Watch detention cases has increased lately.
"The construction of a new insurmountable 'border' and the establishment of 'border crossing rules' disrupt family ties and hinder public dialogue, trade, and participation in healthcare and educational programmes for the sides divided by the conflict," the letter reads.
"This policy instills a feeling of constant danger and illegal persecution within society and as a result, threatens stability in the region."
The signatories of the letter think that the process violates fundamental human rights and makes an already unbearable situation for the local population even more difficult from both a security and humanitarian point of view.
"We hope that the EU has tangible levers in order to resist the Russian Federation's deceptive policy," writes GNP, a coalition made up of nearly 60 organizations in Georgia.