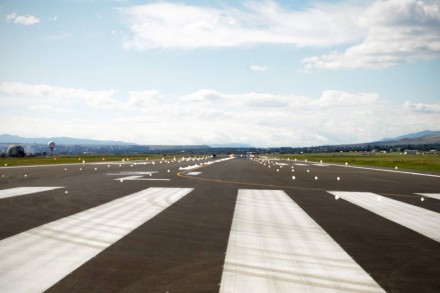 TBILISI, DFWatch–A new runaway was opened at Tbilisi International Airport on Monday.
During the 12 weeks of construction work on the new runway, no flights were cancelled but some were rescheduled. The runaway was closed for ten hours every day until 20:00.
A spokesperson for the airport told DFWatch that the new runaway is approved for 20 years, which means that it won't refurbishing or rehabilitation until 2036.
According to the Ministry of Economy, more than 70 million lari was spent on  developing the airport infrastructure and navigation systems. More than 10 million lari was spent on the runaway itself and installing new lights.
The ministry assures that flight security is improved so it will be easier to land and take off in bad weather and in conditions of poor visibility.
June 27, construction began on a new terminal building. The reason is higher numbers of visitors. The new terminal will be opened in 2017. Last year, the airport served to more than 1.8 million passengers.
In 2010, 822,772 passengers came through Tbilisi airport, in 2011 1.06 million, in 2012 1.22 million, in 2013 1.44 million and in 2014 1.58 million.
The new terminal is being constructed by TAV Urban Georgia and will have an area of 12,000 square meters. 500 people will be employed on the project. When finished, it will be able to serve more than 3.5 million passengers per year.
Tbilisi airport has been managed by TAV Urban Georgia since October 31, 2005. The Turkish company will continue to do so until November of 2027.