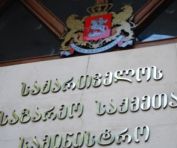 TBILISI, DFWatch–The Prosecutor's Office in Georgia has opened another investigation against the Defense Ministry, which is already subject to two investigations which prompted the minister's dismissal last week.
This time the investigation is based on material from the State Audit Office and dates back to July, 2013, and an audit requested by the Military Police and the dismissed defense minister, Irakli Alasania.
"Alasania requested this audit himself," said Lasha Tordia, head of the State Audit Office.
On Thursday, he told journalists that the office found violations at the Defense Ministry and sent material of the case to the Prosecutor's Office for further investigation. He said that this case doesn't concern the two cases for which five ministry officials were detained for embezzlement, and neither the case of the six other officials who are charged with negligence of duties.
"It is no intention of mine or my body to participate in some political processes," Tordia said.
He described the case as something to do with the procurement history of the ministry when Alasania was minister, but also before that, going back as far as 2011.
October 28, 2014, the Prosecutor's Office detained five ministry officials and accused them of embezzling more than four million laris. The former minister Alasania maintains that they are innocent. The office then charged six more officials in a case about food poisoning of soldiers. This was followed by prime minister dismissing Alasania, and two ministers resigned in protest. Alasania's Party Free Democrats left the Georgian Dream coalition.