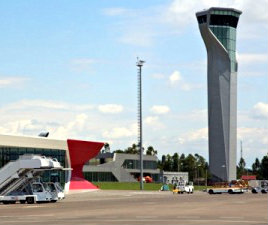 TBILISI, DFWatcch–Kutaisi in central Georgia will be connected by direct flights to some of Europe's biggest cities this week for as little as 25 euros.
Hungarian budget airline Wizzair is launching new flights out of Kutaisi International Airport.
Already from Thursday, there are new connections linking up Georgia's third largest city with Rome, Paris and Athens.
On Friday, also Barcelona and on Saturday Prague become available.
Flight fares start at 24.99, 29.99, and 39.99 euro.
Many travelers combine flights to Kutaisi with a three hour shuttle bus to Tbilisi.
Wizzair has become popular in Georgia in recent years, and recently opened a second base at Kutaisi airport.