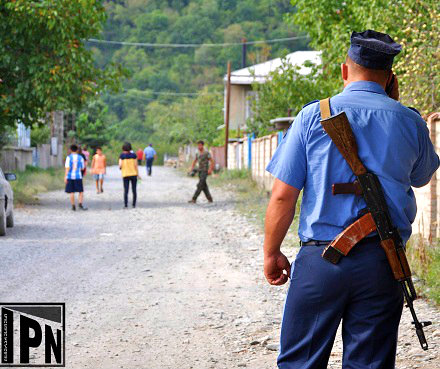 TBILISI, DFWatch–A newly appointed commission will next week start studying a special operation which claimed 14 lives on the Georgia-Russia border in August 2012.
The incident took place in the last few months of Saakashvili's government. After the change of government in October, 2012, a new investigation was started, but many complain about the lack of progress.
An independent commission will now study the case. Public Defender Ucha Nanuashvili, who took the initiative, said Monday that the ten member commission try to reveal new details and answer questions that have been lingering, then publish its conclusions regarding the sensitive case and make recommendations.
Nanuashvili says the commission was needed because the official investigation has been dragged out. A whole year has gone with no information.
Among commission members will be representatives of non-governmental organizations, as well as representatives from the community in Pankisi Valley, where two of the dead rebel fighters were from.
Georgian Young Lawyer's Association, which represents the affected families, decided not to join the group. Even though they also believe the currrent investigation is being dragged out, they think Nanuashvili's commission doesn't have the necessary means to investigate the case propery. If there aren't any results soon, the NGO plans to complain to the European Court of Human Rights in Strasbourg.
Among the members of the commission are Soso Tsiskarishvili, Lia Mukhashavria, Kakha Kakhishvili and Mamuka Areshidze.
The operation in Lapankuri took place at the end of August, 2012. According to the official version, 14 people died – 11 armed rebels and three employees of Georgia's Defense Ministry. One man, Ahmet Chatayev, was detained but later released.
A report earlier this year by the Public Defender's office said the rebels were among Chechen fighters being trained by the Saakashvili government at the time. It said up to 120 Chechens had been brought in from Europe, trained at two military bases outside of Tbilisi, and offered safe passage into Chechnya upon completion of their training.
Read more:
https://dfwatch.net/georgia-recovers-11-bodies-from-militant-group-76658
https://dfwatch.net/georgia-releases-footage-of-dead-islamist-militants-40336
https://dfwatch.net/two-law-enforcers-one-military-doctor-and-11-boeviks-killed-georgian-officials-report-17291
https://dfwatch.net/police-operation-on-georgia-russia-border-93744