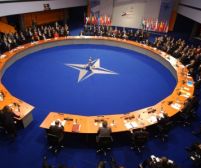 TBILISI, DFWatch–A delegation from the NATO Parliamentary Assembly is coming to Georgia March 24-26.
The NATO parliamentarians will be attending a round table discussion at the NATO office here.
Another part of the visit is a meeting with their Georgian counterparts to discuss domestic reforms, international security and NATO's and Georgia's role in regional stability.
The delegation will meet with the president, deputy foreign minister, parliament speaker and the prime minister's representative for relations with Russia.
The delegation will visit the Georgia-Armenia border to study how the border police is working.