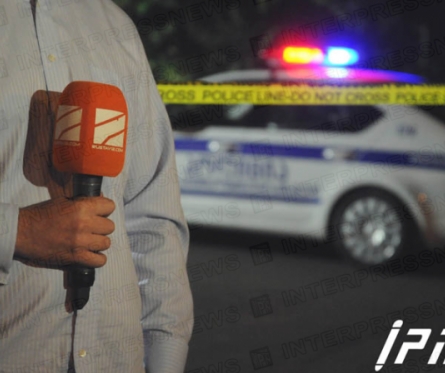 TBILISI, DFWatch–The wave of bomb hoaxes continued in the Georgian capital Tbilisi on Monday morning, with first a call about a bomb in the parliament building in Kutaisi and in the building of Imedi TV.
Both of the threats turned out to be hoaxes, but both buildings were evacuated and experts searched the premises. It was the third bomb hoax at both locations.
The calls about Imedi TV and the caller targeting Rustavi 2 TV in Sunday, were detained. They are 12- and 13 year-old. Later in the evening, two more calls were made reporting bombs in Rustavi 2 and Imedi TV.
Imedi's news program Kronika was on air when the Interior Ministry's call center 112 received a call about a bomb in the TV building, which was evacuated for the fourth time in two weeks; however this time employees were allowed in sooner than usual and the bomb experts worked with people present.
The call was made by a a boy born in 2000, according to the Interior Ministry.
Another call targeted the parliament building in Kutaisi, western Georgia, where there was a session of the investigative committee, which was forced to stop and as the building was emptied.
The ministry also identified another minor who Sunday reported a bomb at Rustavi 2, which also has been evacuated three times in the last two weeks. The caller was a boy born in 2001.
The Ministry of Internal Affairs on Monday issued another statement warning the public to stop making false reports, writing that the authors of calls will be strictly punished as it is a violation of the criminal code and the offender can face up to three years in jail.
"In case the author of a false call is a minor, their parents or guardian will be held responsible," the statement reads. "Guardians and parents of minors will be obliged to cover the loss inflicted by the false calls."
MIA drew attention to a new legislative initiative which will introduce stricter punishment for false terrorism reports.
Tbilisi City Court on Monday sentenced a 19-year-old boy to two months of pre-trial detention. He made a false bomb threat to Rustavi 2 last week.
The buildings of Rustavi 2 and Imedi currently remain evacuated, as bomb experts and police are conducting a search.
There was also a call about a bomb outside of Tbilisi on Monday. In Khashuri, police detained a man born in 1967 who made a hoax call about a bomb at Procredit Bank in the central Georgian town. The caller may face up to three years in jail.