TBILISI, DFWatch–PM Giorgi Kvirikashvili swore several times at his counterpart during a debate with the acting head of the largest opposition party UNM on Wednesday.

"You bastard, f— you… you scum," a frenzied PM Kvirikashvili said. He repeated the phrase at least two times.
What made Kvirikashvili's temper boil over was UNM's Nika Melia's reference to rumors in Tbilisi that the businessman Bidzina Ivanishvili is discontent with the current PM and has decided to replace him in the coming months. A replacement for Kvirikashvili has already been chosen, Melia said.
He also accused the PM of corruption and inability to address the most immediate problems in the country, using labels such as "disgraceful" and "inept" about the PM.
The debate took place inside the old parliament building in Tbilisi during a session to approve a government reshuffle, which requires a new vote of confidence.
Fistfight
The expletives, which are comparable to saying "f— you" in English, were uttered just as the PM was preparing to leave.
When the PM and government ministers stood up from their seats and set about to leave the room, the UNM members also stood up, and the two sides exchanges strong words. Parliament's security guards and the PM security detail rushed between them and pushed UNM members back, as the confrontation was about to turn into a fistfight.
The verbal exchange continued in the lobby, after conflicting sides left the room.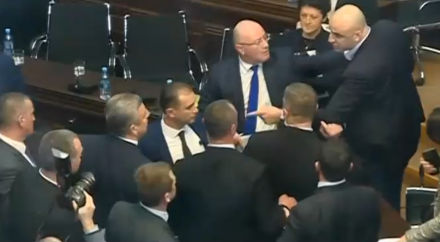 Later, Kvirikashvili apologized to the public.
"I would like to apologize to the public for my extreme emotions, but unfortunately, the representatives of the National Movement […] managed to make me lose my temper. It was not a pretty view," Giorgi Kvirikashvili said, commenting on the incident after a few minutes.
Before the debate on Wednesday, the PM and the new cabinet members met with different parliamentary factions. In November, the government announced a structural overhaul of the cabinet, which resulted in three ministerial mergers and several other changes.