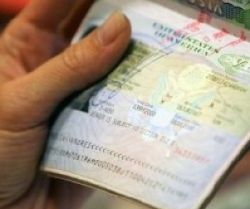 Tbilisi, DFWatch – European Union foreign policy chief, Federica Mogherini on Monday has emphasized that the situation in Georgia is 'extremely encouraging, extremely positive' to deliver on visa liberalization for the citizens of the country.
At the press conference following the European Union's Foreign Affairs Council on November 14, EU official emphasized that she raised the issue to the Ministers in the very beginning of the council, and to deliver visa waiver regime for two post-soviet countries Georgia and Ukraine is a priority o for the European Union.
"This was an issue that not only Ministers discussed, but that I raised to the Ministers in the very beginning – visa liberalization both for Georgia and for Ukraine – with a clear sense around the table of the Foreign Ministers that this is a priority for the European Union to deliver on that, as Georgia has met the criteria and there is a determination to move forward on that," Mogherini said.
The visa waiver regime allows easier access – but not the right to work – for up to 90 days in Europe's Schengen Zone, which comprises most EU states and several non-EU members.