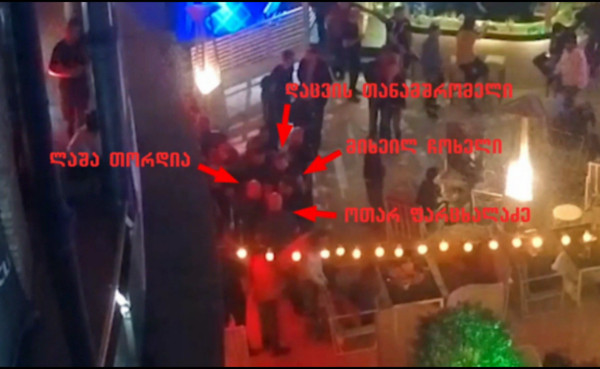 TBILISI, DFWatch–The Ministry of Internal Affairs released a surveillance video and witness testimony on Monday which appeared to undermine claims by the country's top public auditor that a recent bar fight was connected to a corruption probe.
But the low resolution surveillance video of the bar fight in the center of Tbilisi two weeks ago between the auditor and a former chief prosecutor did little to settle the dispute, which the former claims is related to corruption.
The video shows the moment when the head of the State Audit Office and a former chief prosecutor fought each other in the bar El Centro in the early hours of May 13. It was taken by a surveillance camera that is too far from the scene to show exactly what happened, but there can be discerned a brawl on the outdoors terrace of the night club El Centro.
Public auditor Lasha Tordia, who required hospital treatment after the fight, claimed the fight started because of a probe done the State Audit Office, which he heads, into possible illegal activities by Otar Partskhaladze, a former top national prosecutor who he claims attacked him that night.
Tordia claims the probe established that Partskhaladze amassed millions of laris through suspicious deals with Tbilisi City Hall; a case which he said should be referred to the Prosecutor General's Office for further investigation.
Along with the video, MIA also published its preliminary findings in the investigation, which apparently seeks to downplay the ex-prosecutor's role in the conflict.
In its statement, the MIA concludes, based on "impartial witnesses", that Tordia first hit ex-Chief Prosecutor Otar Partskhaladze's friend. A physical confrontation ensued, which ended after a few seconds.
"None of the witnesses questioned in the case, including Lasha Tordia, indicated that they were beaten by Otar Partskhaladze," the MIA states.
But Tordia says he doesn't trust the investigation. The video footage presented was deliberately chosen to obscure the incident, while there are several other cameras at the bar which might offer a clearer picture of the conflict, he claimed.
"[The MIA and the prosecution] have intentionally shown footage that raises questions about who was the first attacker and how it happened," had said at a briefing on Monday, insisting that a special parliamentary commission must be established to look into the case. He also appealed to international organizations and foreign diplomats to do their own inquiries.
The country's top auditor believes he is going to be blamed for the incident.
"We are seeing very interesting developments, and I think […] I will be in the dock," he concluded.