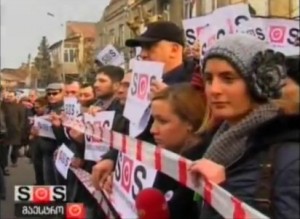 TBILISI, DFWatch – Georgian media workers Monday continued the campaign to raise awareness of the pressure they are coming under on several fronts.
Employees of an evicted TV station joined newspaper staff to picket the president's residence in Avlabari in the center of Tbilisi.
Many people wore a red tie symbolizing that the media doesn't have an opportunity to work freely in the country. Recently the independent TV station Maestro was taken over by an investor and staff evicted, while the town hall in the capital has taken away newspaper kiosks and stands.
Eliso Chapidze, editor of the daily newspaper Rezonansi says that the reason for protesting in front of the president's residence is because the 'harassment policy against the free media comes from the supreme leader and not from a specific official.'
Lasha Tugushi, editor in chief of Rezonansi and the head of the Georgian Press Association stated that every newspaper booth in the capital has been taken away, which is an 'abomination and unprecedented behavior.'
"We came to the residence to say once again: President Saakashvili, do not kill the press! Just as we did yesterday via the newspapers. Taking away the booths has already reflected on the newspapers and their circulation. They have bankrupted the press distribution companies and created very serious problems for the press," Tugushi remarked.
The protesters gathered together and tied themselves together with a red and white ribbon.
Mamuka Glonti, co-founder of Maestro, said that the ribbon is tied around everything which doesn't work and it's dangerous to enter there. He said that today Maestro is unable to function and it is dangerous for the TV station's employees to enter the building owned by Maestro.
The protesters say their aim is to call for the government to stop fighting against the free media and to free the Maestro building from occupation.
There was no response from the president's administration.