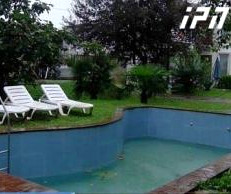 TBILISI, DFWatch–A young man was electrocuted in Batumi on Wednesday after he jumped into a swimming pool to save a three-year-old girl.
The incident happened at about 11:00 in the morning in a guesthouse at a place called Benze.
A girl fell into the pool in the garden of the guesthouse. The girl's father and a 22-year-old man dived in to save her, but all three were electrocuted.
When the ambulance arrived, the young man, Nika Gograchadze, was unconscious.
All three were taken to hospital.
Gograchadze is in a serious condition. The father and daughter are recovering, though still in hospital.
Badri Paksadze, deputy director of Batumi Emergency Service Center, said the girl does not have life threatening injuries.
"They were removed from the pool timely, but 22-year-old man was unconscious. He is at the referral hospital in a serious condition,"Paksadze said.
According to locals, the father and daughter are Georgian tourists. The girl accidently fell into the pool and the father dived in first to save the girl. He was followed by Gograchadze, who is a relative of the owner of the guest house.
Locals suspect the cause of the electric shock to be a water pump.
An investigation has been opened for violation of rules about energy usage.