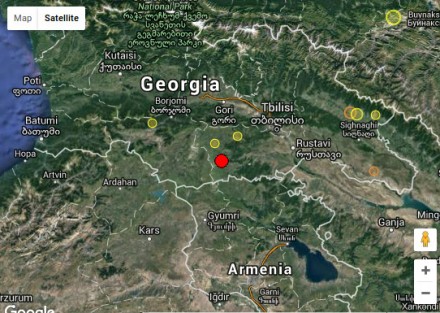 TBILISI, DFWatch–An earthquake of magnitude 4.8 caused slight shaking in the Georgian capital Tbilisi Tuesday afternoon.
The quake occurred at 2:14pm local time and had its epicenter 10-15 km away from Dmanisi, a town in southern Georgia near the border with Armenia, DFWatch was told by the staff at the Seismic Monitoring Center at Ilia State University.
Manana Dvalashvili, head of the data processing department at the center, said that there have been no reports of damages.
"This earthquake will probably be followed by smaller tremors. We don't forecast more serious quakes," Dvalashvili said.
Many people in the capital said on social media that they felt the quake. No damage has been reported so far.