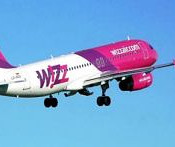 TBILISI, DFWatch–Several low cost airlines are looking to enter the Georgian market, according to the Ministry of Economy.
Prospective new carriers include Ryanair, EasyJet, Air Berlin, and the Greek company Ellinair.
According to the ministry, Ellinair applied to the Aviation Agency on April 7 to start weekly flights between Tbilisi and Thessaloniki from June 8.
The two Israeli airlines Israir and Arkia plan to resume flights between Tel Aviv and Tbilisi after the winter season break. Israir wants to launch four flights a week while Arkia will fly from May 14 once a week and twice a week from June 7.
Another novelty is that the Turkish airline Pegasus wants to begin flights between Istanbul and Kutaisi from May 18.
The Ministry of Economic Development is in negotiations with EasyJet, Rynair and Air Berlin. According to minister Giorgi Kvirikashvili, the government wants to provide tourists with more options and there is a plan to allocate subsidies for charter flights, but no decision has been made.
Other routes are also widening the range of opportunities. Georgian Airways has been in negotiations with representatives of Russian aviation about implementing flights to St Petersburg.
And Egyptian Air Cairo will also fly between Tbilisi and Hurghada twice a week from June 2. There will be two flights per week between Tbilisi and Astana by Air Astana from June 1.
Wizz Air is currently the cheapest airline operating in Georgia. It flies out of Kutaisi airport and connects to Poland, Hungary and Lithuania, but recently canceled its flights to Ukraine.