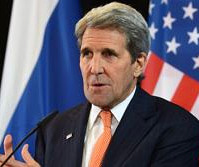 TBILISI, DFWatch–A few days prior to a NATO summit in Warsaw, Secretary of State John Kerry on Wednesday signed a memorandum of understanding about defense and security cooperation between the United States and Georgia.
The signing ceremony took place during a visit by Kerry to the small South Caucasus nation that sits just south of Russia and fought a war with that country in 2008.
Kerry and the Georgian prime minister also signed an agreement about strengthening cooperation in the fields of education and economy.
"We respect the reforms that you have been instituting, the efforts you are making to make sure your election is as fair and accountable and transparent as possible," Kerry said after meeting Georgian PM Giorgi Kvirikashvili.
The MoU will increase the defense ability and effectiveness of Georgia's armed forces and will involve joint military exercises, Kerry said.
Secretary Kerry praised Georgian wine and the traditional dish Khachapuri, and regretted that he couldn't stay longer, as he has planned meetings in Kiev. Kerry thanked the Georgian PM for hosting him and said he hoped to have the opportunity to come back to Georgia before the end of his term.
This is Kerry's second visit to Georgia, but the first time as secretary of state.