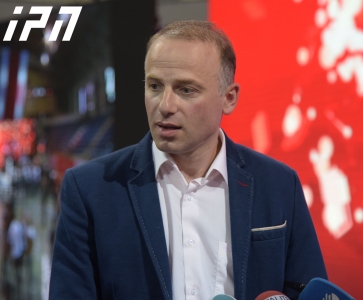 TBILISI, DFWatch–Journalist Merab Metreveli Monday left opera singer's Paata Burchuladze's party because he was dissatisfied with being allied with former National Movement members.
The opera star was joined by a more politicians on August 18, including Giorgi Vashadze and Zurab Japaridze, who are from the former ruling party led by ex-President Mikheil Saakashvili.
Kavkazia TV journalist Metreveli's absence at the press conference where the merger was announced led to speculation that he was against it, which Burchuladze eventually confirmed. Metreveli said he would take a few days to decide.
"I left the party. I want to wish them success. I made a decision to go into politics because this was a new force. I planned to cooperate with the new political power. Of course, anything can happen in politics – merging, union – but this decision was unacceptable for me," Metreveli said.
Metreveli is not the first person to leave Burchuladze's party. Before him, Irakli Gurchiani, founder of Toyota Center Tbilisi, and doctor Nino Nadiradze-Kuzanova left.
Gurchiani didn't state a reason, while Kuzanova said she left because of the great diversity. She said there were people in the party she didn't wish to work with.
Among the others who have left the party are a majoritarian candidate for Vazisubani, Tbilisi, a local party secretary in Isani, Tbilisi, about twenty people from Isani district and other people from different districts of Tbilisi, as well as regional offices.
In all, several hundred people have left the party set up by the opera singer. The reason for leaving is often stated as financial issues or that it includes former UNM members.
But Burchuladze claims the State Security Service is putting pressure on his party members.
The singer-turned-politician said May 12 that he was going into politics. He is founder of Georgian Development Fund.