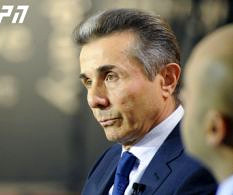 TBILISI, DFWatch–Former Georgian PM Bidzina Ivanishvili lashed out at opposition politician Nino Burjanadze on Sunday, accusing her of bluffing when she proposed that Georgia should declare a non-bloc status.
Burjanadze, a former parliament speaker, proposed in June that Georgia should declare in its Constitution that it will not be a member of any bloc or military alliance.
This would exclude NATO membership, which has been a main foreign policy goal since the 2003 Rose Revolution.
During a TV appearance in Kutaisi, Ivanishvili called the proposal a bluff. He was appearing on his son's TV channel GDS on one of the stops of a tour of the country in connection with the election campaign.
"We have chosen a strategic direction and the entire society agrees with it, including Georgian Dream. Our course is Europe, EU and Euro Atlantic space," he said, and argued that Georgia doesn't have any other alternatives than NATO.
Burjanadze's proposal was seen as pro-Russian by most parties in parliament. The speaker made a counter-proposal to write in the Constitution that Georgia should seek integration with EU and NATO. When the initiative came up in the committee that considers citizens' initiatives, the other parties failed to show up and both proposals were postponed. This sabotaged the petition drive Burjanadze had planned to make part of her campaign.
During questioning on Rustavi 2's election special, the Democratic Movement leader elaborated that declaring a non-bloc status and opening negotiations with Russia is the only way to remove the Russian soldiers from the breakaway territories Abkhazia and South Ossetia and achieve a reunification of the country. Her proposal says Georgia cannot have foreign troops on its soil, which means Russian soldiers must be withdrawn from the breakaway territories.
The dominating view in Tbilisi is that by becoming NATO member, Western countries will help Georgia reclaim the lost territories.
"I don't think Mrs Burjanadze has great chances," Ivaninshvili said during the GDS appearance, adding that Georgian Dream agrees to have relations with Russia but not at the expense of occupied territories.
"Chances of Burjanadze joining parliament are very low, in my opinion."