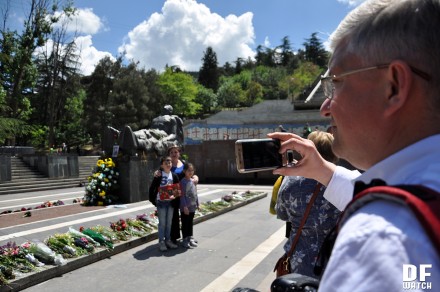 TBILISI, DFWatch–On May 9, Georgia marked the 71st anniversary of Victory Day, the day Nazi Germany surrendered to the Soviet Union.
As usual, there were events all over Georgia. World War II veterans came to the memorial in Tbilisi's Vake Park, where government officials and others gave them flowers and took pictures next to them.
In Joseph Stalin's hometown Gori, supporters and opponents of the Soviet dictator clashed as mostly elderly people marched from the Stalin museum to the city hall building carrying banners with messages like 'Glory to Stalin the Great.' Confrontations over the town's most famous son has become a mainstay of Victory Day in Georgia in recent years, as the club of Stalin admirers demands that the statue which was taken down five years ago must be re-erected. The proposal was voted down by Gori City Council last year.
During the demonstration, a group of youth tried to halt the event and shouted 'traitors'. Despite the small incident, the demonstration continued.
The veterans and others habitually wear the St George's Ribbon on Victory Day. The black and orange ribbon is used within and outside of Russia as an emblem of support for Russian military and nationalism, while the other meaning, which is most prevalent in Georgia, is to see it as a symbol of Russian imperialism. Its significance increased after the outbreak of war in Ukraine two years ago, where it is used as a symbol by both sides.
Vake Park was filled with people. Families with children visited the tomb of the unknown soldier, bringing flowers and taking pictures with the veterans. Live music was performed from a stage assembled near the memorial.
The president's administration announced an initiative to give vouchers for free medical treatment to WWII veterans. 125,300 laris was allocated from the president's reserve fund for this purpose.
The government also announced a new initiative; that veterans will receive a 600 laris allowance, while families who lost the breadwinner in WWII will receive 300 laris.
May 10, a monument will be unveiled in Tbilisi for Meliton Kantaria, who served in the Soviet Army and is credited for raising the Soviet flag on the Reichstag building in Berlin with Yegorov. Kantaria died in 1993 aged 73.
About 700,000 Georgians served in the Second World War and about 224,000 died.
Today, according to Georgian media sources linking to the most recent census results, there are 1296 veterans still alive in Georgia.