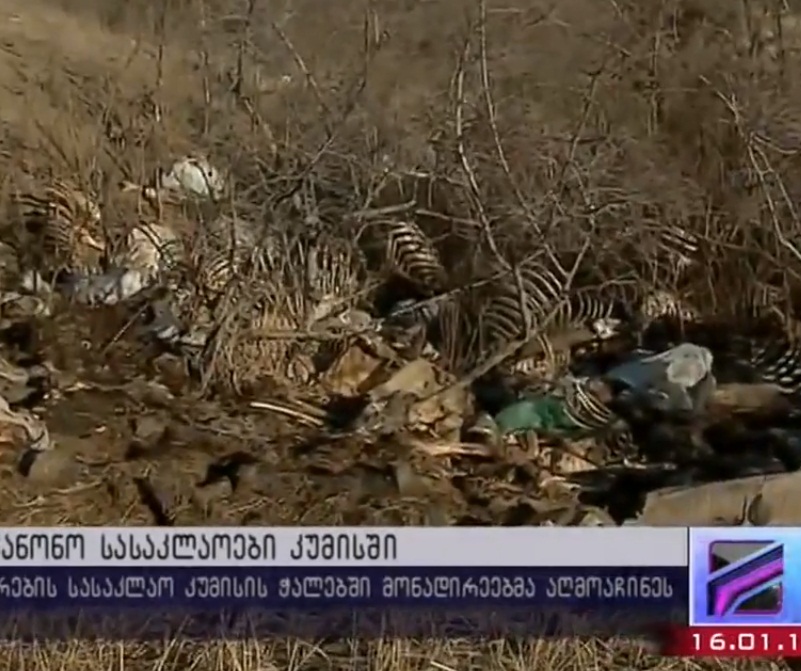 TBILISI, DFWatch–Hunters in Georgia have discovered an illegal slaughterhouse close to the village Kumisi, not far from the capital Tbilisi.
The hunters claim donkeys are secretly killed there and cut in a way as not to recognize the origin of the meat. Later it is brought to Tbilisi and sold to khinkali and shawarma restaurants.
Locals claim they have also seen horses being brought to the slaughterhouse.
Representatives of the National Food Agency went to inspect the site, but said it is more like a dumping-ground than a slaughterhouse.
The representatives say they discovered bones of different animals, including horses, left in the field, and have informed the police.
Giorgi Metreveli recalls that he and a few other hunters saw how animals were being skinned and sorted.
"In order not to identify what meat it is, they cut boneless meat and you can see hundreds of feet of dead donkeys and other animals there," he says.
Another hunter, Kakha Chavelishvili, told Rustavi 2 that one of the others told him the meat is brought to Tbilisi and sold. The same man said he and the other locals normally don't buy meat in Tbilisi at all.
Locals say tens of donkeys have been slaughtered at the Kumisi site. Leftovers are lying in the field, without proper sanitary measures.
The donkeys are brought there from Kakheti, a region in eastern Georgia.