TBILISI, DFWatch- Bidzina Ivanishvili vows to initiate impeachment procedures against Georgia's president Mikheil Saakashvili after he has won the parliamentary election next year.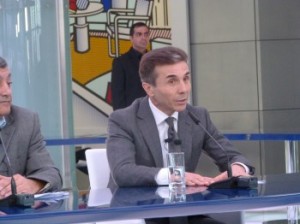 The businessman made the statement Tuesday at his first and long awaited press conference. It took place in his luxurious Tbilisi business center in the front of nearly 230 Georgian reporters and local stringers for Western media.
"Even though Saakashvili has made the constitution perfectly fit his own interests; when we enter parliament as a majority we will immediately begin to discuss his impeachment if he doesn't proceed to resign," Ivanishvili said, answering a question about how he is going to work together with Saakashvili, taking into consideration the fact that Saakashvili is going to be president for one more year after the parliamentary election, set for October 2012.
Next presidential election is to be held in 2013.
At today's rather noisy meeting where journalists were literally fighting to ask their questions, Ivanishvili discussed his views on Russia and Georgia's future relationships with this country. He has previously said that Georgia has to find its right place and have relations both with the West and with Russia.
"I hope there will be agreement based on interest. I mean Abkhazia and South Ossetia [Georgia's breakaway regions] – I think it is in Russian interest too. Clearing up issues in this direction is in Russia's interest too; because they are also unhappy with this in the terms of relations with the international community. The problems are in regards to Russian domestic policy, because the Caucasus region can be dangerous for the country," Ivanishvili said, adding that improving relations is also in Putin's interests.
He thinks that Georgia will have to build relations with such governments which will be chosen in Russia.
"We will do everything to become a Georgian dream come true. It means building a united democratic and stronger Georgia together," the billionaire stated.
Ivanishvili also shared his views about Russia's membership in the World Trade Organization (WTO). According to him, this in itself is positive but "Georgia, personally, received nothing but a lie," he said, adding that some kind of monitoring was imposed towards our country.
"Russia has been asking for this for about two years and we have been refusing. Russia is becoming a member of WTO, while Georgia has no economic growth. Saakashvili has managed all these. He was urged to do so, so it's clear that he has no international immunity," Ivanishvili said, meaning that he thinks that the recent decision to allow Russia into WTO following a Swiss mediated plan is a decision which was a result of international pressure.
"Saakashvili has been forced to sign on to this. No Georgian public interest is reflected in this decision. Once more it indicates that Saakashvili has completely lost immunity on an international level. He did this just to [satisfy their demands] in hope to once more become bearable for them." – Businessman adds.
At the press-conference which was broadcast live by the Georgian Public Broadcaster there were several questions about closer integration with NATO. Bidzina Ivanishvili says that NATO is a military political organization and except for military interests it is necessary for the democratic institutions to be functioning in the country.
"Which [democratic institutions] had been destroyed by Saakashvili's authoritarian regime and these actions significantly delayed the issue of Georgia's NATO membership," he explained.
Another question was whether after seizing power he would change a decision taken by Saakashvili to send Georgian troops to Afghanistan as a member of ISAF (International Security Assistance Force).
"We have developed very good partnership and experience by participating there," he said. "But we can discuss details later, for example about the size of troops and so on."
Asked who initiated the 2008 Georgian-Russian war, he answered:
"First, I want to remember Tagliavini [commission] report; secondly I have brought with me the Resolution of the Parliamentary Assembly of the Council of Europe on the results of the Russia-Georgia War, which the Georgian delegation voted for. Tagliavini's statement and this resolution both observe that the Georgian side started military action," Ivanishvili says.
"Liakhvi Gorge villages [Georgian enclaves near Tskhinvali, the South Ossetian capital] were bombed by the paramilitaries from the Ossetian side. I think Saakashvili had to secure these villages. He could have brought the villagers out of there and asked the international community for help. But he committed unreasonable actions and began bombing Tskhinvali. This I say to all of you, except for [journalists from] the three [pro-government] channels which I mentioned [Rustavi 2, Imedi and First Channel]. Everyone knows everything well and they are trying to deceive the Georgian public."
According to him Saakashvili deceives his own people when he claims that Russia started the war and Georgia won it.
Bidzina Ivanishvili said that he would do everything together with his advisors and international organizations to get back his Georgian citizenship, but in the case he doesn't succeed he still has a plan to implement his political goals together with his new group of like-minded people.
As for the ethnic, religious and sexual minorities, the tycoon says that they are just as equal members of society as anyone else, and in case he comes to power the policy towards them will be appropriate.
(Photo: Eliso Chapidze.)