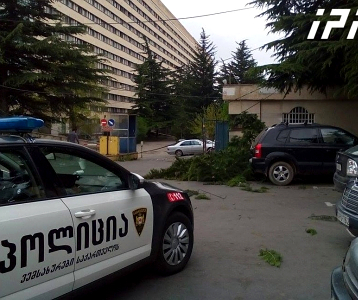 TBILISI, DFWatch–Strong wind hit Tbilisi Monday evening, uprooting tens of trees and damaging houses and street signs.
Monday night at 10pm, the wind reached a speed of up to 32 meters per second in the capital. This qualifies as a hurricane, journalists were told by the Hydrological and Meteorological Center at the Ministry of Natural Resources.
But on Tuesday the wind subsided, and meteorologists expect sunny weather from Thursday on.
As the emergency center said it received 200 calls during the storm, no-one reported any injuries, according to Interpressnews.
Canceled flight
Even though a Turkish Airlines flight from Istanbul to Tbilisi was canceled, Tbilisi International Airport otherwise operated normally.