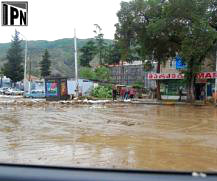 TBILISI, DFWatch–Heavy rain caused flooding in several regions of Georgia Saturday.
In Zugdidi, a region bordering the breakaway region Abkhazia, more than 20 villages are flooded, according to local reporters. Didinedzi is hardest hit, and has a water cover of more than 120 cm.
The local government does not see it necessary to evacuate. Emergency crews are working to help locals. The rain has destroyed the harvest. Now a special commission has started studying the losses in affected villages.
Ureki and Shekvetili, two towns on the Black Sea, are also affected. A journalist for Interpressnews reports that first floors of hotels and houses are completely flooded. Livestock has been killed, while the cars in streets are under water.
The water cover was about one meter in the morning. Now the clean-up work is in progress. There is no electricity in Ureki. Because of the clean-up work, counting of losses has not yet started.
Seven villages are isolated as roads have been cut off in Pshavi, northern Georgia. There is no electricity, as high voltage power poles are down. Bridges and roads are damaged. Estimation of loss was expected to start later on Saturday.