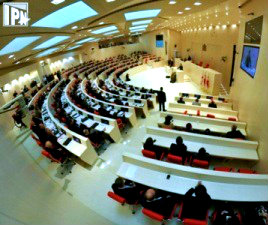 TBILISI, DFWatch–The governing Georgian Dream coalition on Monday increased the number of seats it controls in parliament to 87, as twelve majoritarians agreed to support the bloc.
The same day as the twelve decided to join the majority, the Free Democrats officially withdrew their support.
The twelve who now back Georgian Dream are from the factions Non-Partisan Independent Majoritarians and Independent Majoritarians for Strong Regions, who in the past were members of the National Movement.
"The development of the country requires a strong and non-fragile majority. By us joining there will be an 87-member parliamentary majority and unforeseen political concussions will not be a threat to the country, which might have caused a special parliamentary election," a statement by the non-partisan majoritarians reads.
"We think so many elections in a short time period will harm the economy, development and the country's international image."
Out of the 87 MPs now part of the majority, 48 are members of the Georgian Dream faction, nine are from the Republican Party, six are from the Entrepreneurs, six from the Conservatives, six from the National Forum and the remaining twelve are those who joined today.
The National Movement is the second largest bloc and thus the minority with 51 MPs all in all. 39 of them are from the National Movement faction, six from National Movement Regions and six are National Movement majoritarians.
Of the remaining MPs, eight are in the Free Democrats faction and four are independent MPs.