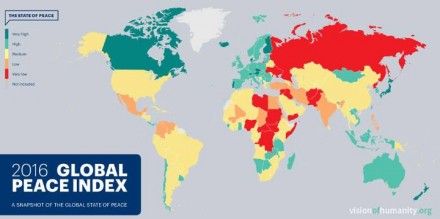 TBILISI, DFWatch–Georgia is ranked 85th among 163 of the world's countries in the latest Global Peace Index published by the think tank Institute for Economics and Peace.
Seven more European countries scored lower than Georgia, including all of Georgia's neighbouring countries. Armenia is in 110th place, Azerbaijan 134th, Turkey 145th, Russia 151st, and Ukraine 156th.
Iceland, Denmark, and Austria are in the top three places in the ranking list.
On the 2015 list, Georgia was in 79th place, but its score fell from 1.973 in 2015 to 2.057 in 2016.
One of the main factors which contributed to Georgia's worsened score was ongoing conflicts both in the domestic and international domain. Georgia also scored lower than the majority of European countries in the social safety and security domain as well as the militarization domain.
The Sydney, Australia-based think tank notes that there has been a widening divide in terms of peace globally in the last year, as the least peaceful countries spiral into increased violence.
"The tenth edition of the Global Peace Index published today highlights a stark and growing inequality in global levels of peacefulness as the gap between the most and least peaceful countries continues to widen. The study, by international think-tank the Institute for Economics and Peace, finds that, while 81 countries improved, the deterioration in another 79 outweighed these gains, meaning that peace declined at a faster rate than in the previous year. Despite this some of the most peaceful countries are now recording historically high levels of peace," the report's authors note.