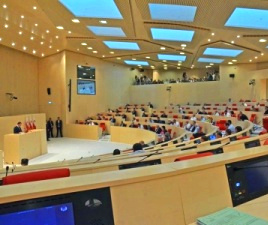 TBILISI, DFWatch–As Georgia's parliament prepares to declare the country's foreign policy, the opposition National Movement has lashed out at the ruling party for wanting a 'pragmatic' policy toward Russia.
Georgia aspires to NATO and EU membership, parliamentarians are preparing to declare, and the United States is the country's most important strategic partner.
But the draft also says that 'despite western values Georgia has to conduct a consistent policy toward Russia.'
The passages about Russia were proposed by the Georgian Dream party, which runs the country alone after a landslide victory in October, when none of its former coalition partners managed to get into parliament.
The party further prepares to declare that it is very important to have a 'balanced, rational and pragmatic policy with Russia.'
This proved too much for the UNM, which was in power until 2012. Giorgi Kandelaki from the party said the government's message to the international community is that Georgia doesn't have such a big problem with Russia, which in his opinion is the wrong message.
"It must in our interest to create discomfort and act in concert with Ukraine in order to raise the issue of de-occupation and return of IDPs," Kandelaki said.
Another change in the foreign policy resolution, which is based on a similar document from 2013, is that the goal of the country's relations with the EU is no longer an association agreement, which was signed in 2014, but full membership in the Union.
This is the first time Georgian Dream has put EU membership on the political agenda. But it won't happen by 2017, Foreign Minister Mikheil Janelidze admitted.
"Our goal is membership, but we also see that the EU's policy now is not about enlargement."