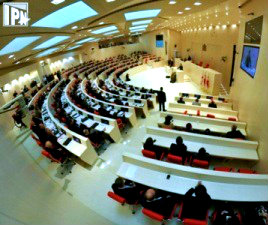 TBILISI, DFWatch–According to the latest available information, the ruling Georgian Dream coalition may keep its majority of seats in the parliament.
Three MPs from the ten strong Free Democrats – Georgian Dream faction might choose to side with Georgian Dream, rather than leave along with Irakli Alasania, the recently dismissed defense minister who is leader of that party, and Wednesday evening announced its departure from the coalition.
The three, according to information yet to be confirmed, are Tamaz Japaridze, Gedevan Popkhadze and Gela Samkharauli, who were loosely affiliated with Alasania's team by personal bonds, in contrast to the 'core' members of the team, representing mostly former diplomats and former colleagues of Alasania, who used to serve as Georgia's ambassador to the UN.
If this is true, Georgian Dream loses not 10 but 7 deputies out of 83, thus totaling 76, which is enough for an absolute majority in the Georgian parliament, which has 150 seats.
Even without these three MPs, people briefed on the issue told DFWatch that Georgian Dream still has enough resources to keep its majority by support of several majoritarians or independent MPs, who might join one of the factions that make up the coalition.