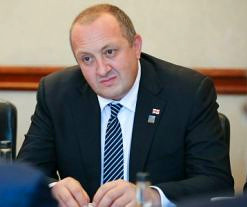 Tbilisi, DFWatch- President Giorgi Margvelashvili has announced that he feels disappointed regarding country's parliamentary elections, as he was expected a multi-party system in the newly elected parliament, but it turned into a bipolar.
On Tuesday, speaking for Rustavi 2 TV, he emphasized that such a parliament can stuck country at one place and won't encourage its development.
"I voted for a country's multi-party system in the parliament and I hoped that the elections would be a step forward toward improvement of the political system, but it didn't happen… There is a small opposition 'Alliance of Patriots'. I appreciate this fact, but actually because they have small numbers of representatives, they can't affect power balance in the parliament. As a result we have got a bipolar parliament," the president said.
Georgian Dream Democratic Georgia scored a crushing victory in bott rounds of the elections in October, clinching 117 seats in 150-member Parliament, which is enough to amend the constitution. The opposition United National Movement (UNM) came in second with 27 seats, while the natinalist Alliance of Patriots took 6 seats.