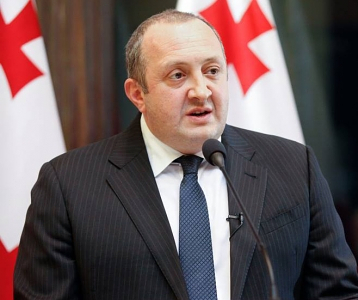 TBILISI, DFWatch–The Georgian president on Friday stepped into the tense situation surrounding the largest TV station in the country, urging all sides to refrain from undertaking 'immediate' action.
The decision led to a protest and overnight vigil outside Rustavi 2's studio complex where tents were erected in preparation for physically resisting the expected takeover.
President Giorgi Margvelashvili urged both sides to refrain from taking 'immediate steps' and instead wait for the decisions of the Constitutional Court and European Court of Human Rights.
"Due to the political importance of the topic, I call on all the parties do not take immediate steps, but wait for the decisions by the Constitutional Court and the European Court of Human Rights," Margvelashvili said at a briefing on Friday.
"Therefore I would like to call on everyone today, to distance [themselves] from a criminal decision and to avoid provocations," he said, adding that the case has been highly politicized from its inception.
He recalled events of 2007, when the government of President Mikheil Saakashvili sent riot police into the largest independent TV channel, Imedi, which led to it being shut down.
"I want people to recall that in 2007, when Saakashvili gave the order to riot police to break into Imedi, it was highly damaging to our democracy," Margvelashvili said, adding that it was not only a 'tragic' but also a 'criminal' decision.
With yesterday's Supreme Court ruling, Rustavi 2 lost a lawsuit over its ownership and in Georgia many believe that changing ownership will eventually lead to the silencing of the largest government critical TV channel in the country.
According to Georgian legislation, decisions by the Supreme Court are final and cannot be appealed.
Rustavi 2 is nonetheless appealing the decision to the Constitutional Court and the European Court of Human Rights in Strasbourg.