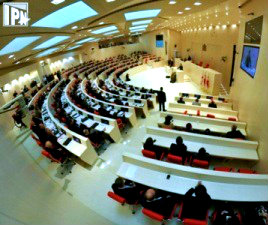 TBILISI, DFWatch–The parliament in Georgia is considering suspending work in October before the presidential election on October 27.
Zviad Kvachantiradze, MP from the ruling Georgian Dream coalition, on Saturday told journalists that the parliamentary majority agreed with the speaker of parliament to suspend work a month before the election.
"We decided to work hard in September to use our rights in October," he said, adding that such a break is in keeping with the constitution.
"As politicians, we have a right to get involved in the election campaign."
Among the work remaining, the legislative body will have to pass amendments about restricting the powers of the prime minister and manage to adopt a set of constitutional amendments.
MPs say they will continue reviewing other drafts after the election in October, but in case parliament is unable to pass the amendments, it will continue to work normally before the election.