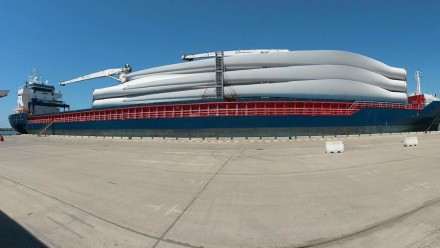 TBILISI, DFWatch–Georgia's first wind power plant will be completed in September and go into operation in December.
Tornike Kazarashvili, president of the board of directors of Kartli wind power plant, told DFWatch that construction work began in March, but the wings and turbines arrived on July 26. The towers will arrive August 5 and 6 from Poti, a port town in western Georgia, and be brought to Gori, starting August 19. The wind farm is located close to the Gori radio tower.
The cost of the project is USD 34 million. USD 24 million was invested by EBRD, while the rest of the financing will come from Kartli Ltd's partners, Georgia's Energy Development Foundation and Georgia's Oil and Gas Corporation.
Work on the project started in 2013. In August that year, there was installed a meteorological tower to measure the wind in the area. A company from Norway called Meventus prepared a report based on data collected from the tower. As result of the study, a location was selected in Gori for the wind farm.
According to Kazarashvili, Kartli wind farm will produce 88 million kWh pr year and have a power output of 20.7 MW. The power will not be used for export but be distributed inside Georgia.
Kazarashvili said that the electricity produced will not influence the national electricity tariff.
Liana Jervalidze, an energy analyst, believes that wind power is a 'luxury', but considering the increased prices of imported electricity, she thinks it is not a bad idea to build a pilot project for wind power.