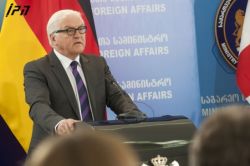 TBILISI, DFWatch–The European Union will begin offering visa-free short-term travel to Georgians in the end of September, German Foreign Minister Frank-Walter Steinmeier said Friday during a visit to Tbilisi.
Steinmeier said on Friday that the visa-free rules will come into force in the second half of September this year. After a meeting with his colleague Mikheil Janelidze in Tbilisi, he said that the formal procedure will be over by the end of July.
Steinmeier arrived in Georgia late night on June 30. He met with President Giorgi Margvelashvili, Prime Minister Giorgi Kvirikashvili and Speaker of Parliament Davit Usupashvili.
The top German diplomat, who is also the current OSCE chief, participated in a ceremony at the 25th OSCE parliamentary assembly, which is being held in Tbilisi from July 1 to July 5.
He remarked that Germany and EU are doing their best to rapidly enforce 'real visa liberalization.' He said that it is up to certain formalities and not a subject for Germany to decide.
Steinmeier said that the formalities may be over by July and 'logical results' will be achieved in the second half of September.
Georgia's government was hoping that the visa free rules would come into force by July, but the hearing about this issue was postponed in June. The process was delayed because of resistance by the governments of Germany, France and Belgium.
German media wrote that Berlin was concerned by the activities of criminal gangs organized by Georgians in Germany. This caused Prime Minister Giorgi Kvirikashvili to visit Germany on June 5.
German Chancellor Angela Merkel said after the meeting that a decision about visa liberalisation would be taken in favour of Georgia, but she did not specify when this will happen.
Politicians in Tbilisi claim visa liberalization can be expected in September or by the end of the year. Some think it will benefit the government if the visa issue is solved before the parliamentary election on October 8.