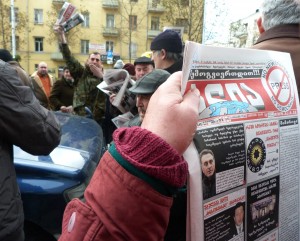 TBILISI, DFWatch – Georgian publishers, journalists, editors and others rallied in front of Tbilisi's City Hall high rise Tuesday to protest against a new plan to replace the capital's newsstands.
The project is called '1000 Booths' and will according to representatives of the media involve removing most of the newspaper sales points which have been a part of the city's pulsating life for years.
Some are simply a portable rack, brought along in the morning and removed in the evening. Others are small permanent booths affiliated with a chain.
The process to remove old newsstands has already begun. City Hall explains that the agreement with the newspaper distribution companies had expired, but the companies say that they have repeatedly appealed to the City Hall to prolong the contracts but they kept explaining there is no appropriate law for this process.
The problem is that the newspaper subscription system is not popular in Georgia. People get their daily newspapers from the newsstands. Taking them away will effectively make the press inaccessible to people.
Not only representatives of print media, but many other media units participated in today's rally together with owners of newspaper kiosks, newspaper vendors as well as readers.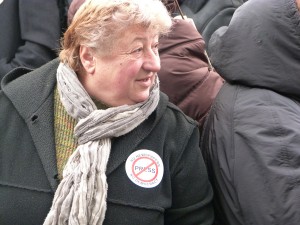 "They took away our booths. They came from Tbilisi City Hall demanding that we cleared the place within an hour. So we cleared the area. They didn't explain anything to us," one of the newspaper vendors working at a kiosk part of the Planeta Forte chain tells DFWatch. She did not wish to say her name.
"We asked them to show us some documents, a decree; but they told us that the process doesn't require any documents. They didn't tell us who they were. They only said they were from City Hall," she says.
Representatives of various print media handed out copies of their own publication to people who had gathered in front of City Hall to show support and discuss what was happening.
"I sell only newspapers. I work at the railway station and they haven't reached me yet, but they have already taken away 18 booths. Twelve of the Matsne kiosks," Iveta, a vendor at a Matsne kiosk says.
Eliso Chapirdze, representative of the Press Association, thinks that the announced tender poses a real danger to the print media, because it will prevent the sale the newspapers and magazines. Together with representatives of other non-governmental organizations (NGOs), the Press Association today demanded that the City Hall cancel the tender.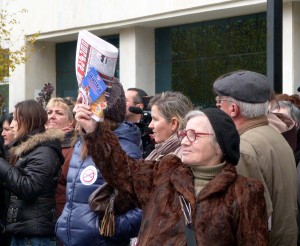 "A special meeting should be held between government representatives and the Press Association and the issue should be legally solved. Newspapers and magazines are not an ordinary business; they have public importance, Chapidze says, adding they the locations of newsstands should be kept as it used to be until today.
"Many booths, for example the so-called Ugulava Booths, are not located via a tender process today; but they still exist and they are 250 in total," she says.
The Coalition for Free Choice had gathered the signatures of the various media and NGO representatives to appeal to City Hall to stop the announced tender process.
"We should protect the freedom of speech. And back in summer when there was an attack on the Palitra Holding and we kept saying then that this attack may be directed against the freedom of speech – then they were telling us that it had been just an ordinary audit process. But today's events in my opinion are a continuation of that process which took place in summer, and it won't finish with today's events," Ia Antadze, journalist at Radio Liberty Georgia, says.
She thinks that newspapers have become more popular, while the national TV stations do not properly inform society, and in comparison to them the newspapers are more thorough and professional in their reporting.
"So it was absolutely expected that an attack would begin against newspapers, and today we are in this process," she adds.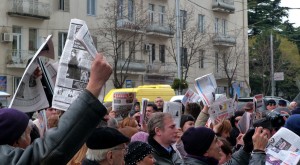 Journalist Zviad Koridze thinks that the rent prices for booths that are part of the tender process is getting higher and will reach a price at which the newspaper kiosk owners won't be able to pay.
"So the City Hall is not telling them not to sell the newspapers; but creates such conditions for them that they will not sell, won't be able to sell the newspapers themselves," Koridze explains.
The alternative, in his opinion is that around 200 or 250 locations should be chosen, where there will only be a newsstand. 'And then there should be announced a tender for these particular places and those participating in this tender will know that if he buy this location they will have to sell newspapers there.'
Some vendors at newspaper kiosks showed up at today's rally to 'secretly support' their colleagues.
"I cannot say my name, because then they will come to my booth and take it away. This is just like 1937. [President Saakashvili] is a dictator. I came here to protect my rights and protect the freedom of speech. I don't want to lose my job," a woman from Tbilisi's northern district of Gldani tells DFWatch.
Ia Antadze thinks that this process may continue in Georgia's regions later on. Regional print media are more independent and has more influence. She says that there are very qualified journalists in the regions.
"The next way the government will intervene after this will be to somehow get rid of the newspapers in the regions as a main source of informing the public. So we should try not to let this happen," she says.
(All photos by Mari Nikuradze.)