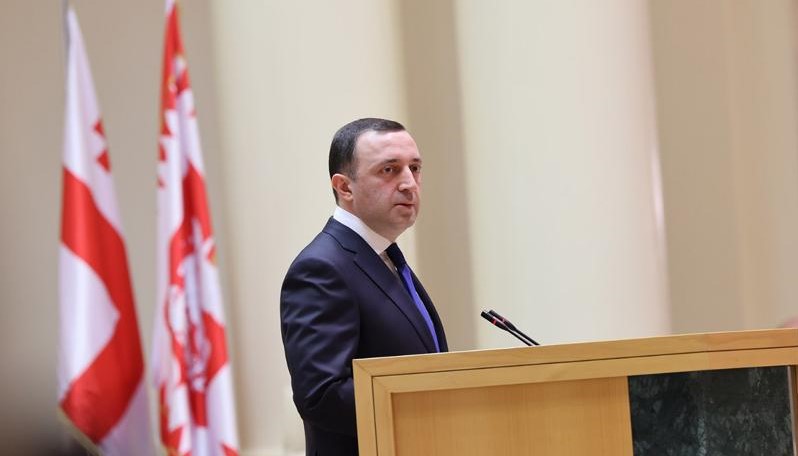 Prime Minister Irakli Garibashvili, whom the opposition and Western politicians often accuse of populist rhetoric, said during his speech in the parliament Friday that government saved the country from "Ukrainization", and reiterated the narrative of conspiracy to drag Georgia into a war against Russia.
"The real danger facing our country today is the […] conspiracy that exists against our country – this is the so-called Ukrainization, a plan to open the second front. I want to remind everyone that today our country is neither a member of the European Union nor a member of NATO, we have no security guarantees, and 20% of the country's territory is occupied by the number one nuclear force.
"Let me remind you that it was precisely this phrase – the second front – that came from the Secretary of the National Security (and Defense) Council of Ukraine. Mr. Danilov said at a press conference that their desire and goal is to open a second front in Georgia, to divert Russia's attention to another region. It was also noted that not only Ukrainian women and children should die, but other countries should also feel the consequences of this war […] They wanted Saakashvili in power, who would start a war against Russia, join Ukraine and drag Georgia into the war," Garibashvili said.
The PM recalled the recent statement of the former head of government and ex-Minister of Internal Affairs Vano Merabishvili, whom he called the informal leader of the opposition United National Movement. According to Garibashvili, in an interview with one of the Ukrainian channels, Merabishvili said that their goal is to overthrow the government, and then start a war against Russia.
"These are the words uttered by Merabishvili in public. This is evidence, and I'm just reminding you of the facts," he said.
The opposition MPs summoned Irakli Garibashvili to parliament via the procedure of interpellation back in January. The letter with questions to the prime minister stated that, despite the deadlines established by law or commitments made to NATO, the authorities had not updated the fundamental concept documents, such as the national security concept, the threat assessment document and the national defense strategy. In addition, the MPs pointed out that within the framework of the Security Council of Georgia there was no regular discussion on issues provided for by law, which is the direct responsibility of the PM.