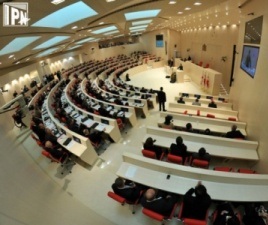 TBILISI, DFWatch–Georgia has still not decided who should have access to secret surveillance material, a problem that has remained unresolved for more than half a year. But this week, parliament is to review several legislative proposals.
A previous vote that would have postponed until February a decision about who should have access to the keys to the so-called 'black boxes' was blocked by the president earlier, as he used his veto power for the first time, voting against his own political bloc, Georgian Dream.
Since parliament didn't overturn the president's veto, it was obliged to agree to the proposal made by the president and prepare a new draft by December 1 to decide the issue sooner than what the coalition had wanted.
Last Wednesday, it became known that there are several legislative proposals for solving the 'keys' issue, but it is unclear which one of them is likely to be passed by parliament.
MPs from the ruling coalition Eka Beselia, Irakli Sesiashvili and Gedevan Popkhadze prepared a draft which proposes having 'two keys' – one for the inspector of personal data protection and another one for the Interior Ministry.
However, for all this time critics of the secret surveillance system have been against allowing the Interior Ministry or any other government body to have access to surveillance data, fearing that the government may use it as a method against political opponents, or misuse it for other reasons.
Non-governmental organizations have another proposal, which also includes having two keys – one for the courts and another one for the telecom companies.
A third proposal was put forth by Vakhtang Khmaladze, MP also from the parliamentary majority. He told Interpressnews that he thinks the key should be in hands of National Communications Commission.
But the two proposals from Khmaladze and from Beselia-Popkhadze seem to be competing.
The parliament has only a few days to make a decision about illegal surveillance legislation as the deadline runs out on December 1.
At Monday's bureau session, there was a dispute about which parliamentary committee should be in charge of discussing the issue. Some of the MPs didn't like the idea of having the debate handled by the human rights committee when one of the proposals was co-authored by that committee's chair, Eka Beselia.
On the other hand, the author of the second proposal is Vakhtang Khmaladze, who chairs the judiciary committee and he and MPs Davit Berdzenishvili and Irakli Chikovani argued that judiciary committee should be in charge.
In the end, agreement was reached that the main debate will be in the human rights committee instead of the judiciary committee. The latter will be responsible for preparing a report about the draft.
The parliament will review the two proposals this week in an 'accelerated' work schedule.