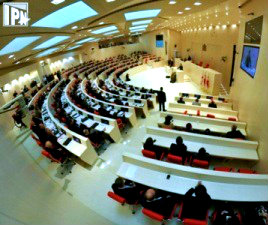 TBILISI, DFWatch–Georgia's national assembly on Thursday decided to leave access keys to secretly obtained surveillance material in the hands of the Interior Ministry.
After days of confrontation with a diversity of opinions about the draft bill, 75 MPs voted for and 58 MPs against a draft bill which lets the Interior Ministry have access to covertly obtained surveillance footage.
Parliament rejected a draft bill prepared by MP Vakhtang Khmaladze, with had support from civil society organizations, to leave access keys in the hands of the Communications Commission.
The bill which won the support of lawmakers was proposed by Georgian Dream members Eka Beselia, Gedevan Popkhadze and Irakli Sesiashvili and will leave control of one so-called key to the Interior Ministry and another key to the Inspector of Personal Data Protection. The bill was supported by Prime Minister Irakli Garibashvili.
Some MPs and NGOs who are categorically against giving a key to the Interior Ministry, fearing that the body will continue secret surveillance, hope that President Giorgi Margvelashvili will veto the draft, like he earlier vetoed a postponement until February of the whole keys issue.
If he does, the parliamentary majority will find it difficult to overturn the president's veto, as this would require 76 votes, which it is unlikely to achieve, even from a vantage point of controlling 87 seats. There were three majority members who didn't support the draft in Thursday's vote. Many were also absent and among those who were absent, some said they are against the Popkhadze-Beselia draft. Also, some majority members who voted for the bill on Thursday are expected to go against it at the second and third reading.
President Margvelashvili has not yet said what his position is on this issue.