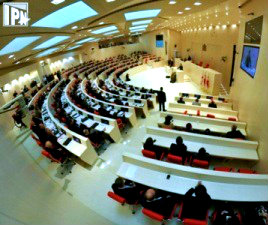 TBILISI, DFWatch–The Georgian parliament will vote on whether to ratify the Association Agreement with the European Union on Friday.
Several prominent European politicians are expected to attend the vote, including Bulgarian Foreign Minister Kristian Vigenin, Latvian Foreign Minister Edgars Rinkēvičs, and EU's enlargement commissioner Štefan Füle.
Parliament Speaker Davit Usupashvili said Thursday that the ratification of the agreement is in fact the only plan for Friday's special session.
He said Prime Minister Irakli Gharibashvili will also come to parliament, which is located not in the capital Tbilisi, but in Georgia's second largest city Kutaisi.
It is unknown whether President Giorgi Margvelashvili will attend. He was not part of the Georgian delegation during the signing of the treaty in Brussels on June 27. Yesterday, the president's administration said the president has not yet received an invitation for Friday's session.
Parliament member Viktor Dolidze said on Thursday that invitations were only sent to foreign diplomats accredited in Georgia. Other guests are coming on their own initiative.
There will be speeches by the foreign minister, vice prime minister and economy minister.
On Thursday, parliamentary committees discussed the agreement with representatives of different ministries.
The text of the agreement was made public before it was signed, whereas something called the association agenda was unknown to the Georgian public and government until a few days before the signing ceremony on June 27. The agenda, handed to Prime Minister Gharibashvili personally by EU's foreign policy chief Catherine Ashton on the eve of the signing, lists a set of priorities for the years 2014-2016 that Georgia must carry out to be part of the EU's free trade area.
The agenda contains economic and trade issues in energy, transport, employment and social policy.
Foreign Minister Maia Panjikidze said on Thursday said that the free trade component, called DCFTA, which will come into force on September 1, comprises 80 percent of the association agreement.